Candy Grrl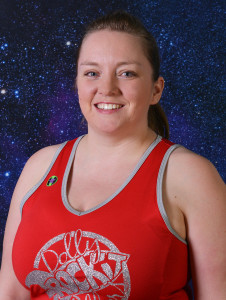 How did you get into Roller Derby?
I started skating about 5 years ago. My friend wanted to have a go and I thought it sounded fun. I turned up to my first training session and never looked back!
What's your favourite position on track?
have done a lot more blocking than I have jamming, but I love both!
What's your signature move?
Most people would say my hits are quite strong. Who doesn't love a good full body hit?
What are you personally working on improving at the moment?
I'm really trying to work on doing effective offence. I'm also trying to work on my strength and fitness.
What do you like to do to keep fit when you're not doing Derby?
I like to swim, I also try to get to the gym when I can. I recently started yoga and its really highlighted how unbalanced I am, so I'm trying to work on that too.
What do you do for fun?
Erm. Roller derby?
Is there anyone who has inspired you recently and why?
I'm constantly inspired by my team mates. Especially newer players! They put in so much hard work and seeing them moving up through the ranks reminds me that effort and hard work is what it takes to be a better player.
What is your skate set-up like?
I'm not an equipment snob. I have my Bonts that sat unmounted in a box for years. I only have them because my old skates were used beyond upgrades! I added a suregrip plate and have been using them for about a year now. I still haven't really decided what my ideal set up is.
RANDOM QUESTION: If you had to make a choice never eat chocolate or chips again for the rest of your life which would it be?
The chocolate/chips debate is silly. Everyone knows that chocolate and chips don't even come close to cheese!
---