Chad the Impaler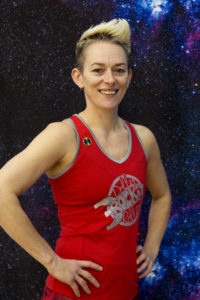 How did you get into Roller Derby?
I heard about roller derby through a friend, Cherry, who had invited me to a game via Facebook. I was totally into photography at the time and thought it would be an exciting event to photograph.
I didn't actually take many shots though, as I was so engrossed (and somewhat perplexed) by what was happening in front of me!
Needless to say, I haven't done much photography over the past two years 😉
What's your favourite position on track?
Just being on track playing roller derby 🙂
What's your signature move?
I've been known to skate backwards on one foot whilst trying to get past blockers a few times 😉
What are you personally working on improving at the moment?
I'm currently trying to work on my strength at the moment.
What do you like to do to keep fit when you're not doing Derby?
My job as a postwoman keeps me pretty fit. And having two Jack Russell's to try and tire out!
What do you do for fun?
You mean, apart from roller derby??
Erm…skating outdoors, skating at roller disco's and just general skating really.
Oh, I do like playing poker and Scrabble. And Cards Against Humanity, that's a good one.
Or mountain biking and hiking.
What is your skate set-up like?
It took me a long while, through trial and error but I now have my dream set-up 🙂
I have the Murillo 340 boot (that fit like really sturdy slippers!), Rolline Killer plate and Rolline Super Speed Race wheels 88a.
I've almost worn through the insoles in my boots though, that's a good enough reason to get new ones, right? 😉
What is your ultimate skate out song?
Yes Sir, I Can Boogie by Baccara
RANDOM QUESTION: If you could choose one superpower, what would it be?
My super power would be that of Scald Eagle 🙂
---