MayTrix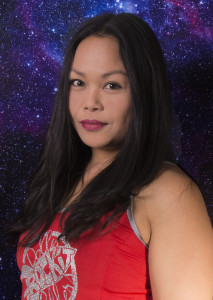 How did you get into Roller Derby?
I've been skating for 2 years & started after seeing & commenting on a Facebook post by the lovely Noushy. She invited me to a game; I had no idea what the hell was going on but just saw a bunch of women being fierce on track & then sharing the love & hugging each other afterwards. I just loved it & knew I wanted a piece of it.
What's your favourite position on track?
I love both blocking & jamming. Love the adrenaline rush of jamming & the tight teamwork when blocking.
What's your signature move?
Chasing the jammer down… Hate losing them so they're always in sight until they're out of the engagement zone!
What are you personally working on improving at the moment?
So many things! Top 3 are working on moves using my weaker side so that I don't become predictable whilst jamming, communicating better & becoming more vocal- I'm pretty quiet, & footwork, footwork, footwork!
What do you like to do to keep fit when you're not doing Derby?
My active 3 year old son who never stays still keeps me pretty busy but aside from that, a bit of yoga at home.
What do you do for fun?
Roller derby of course!
Is there anyone who has inspired you recently and why?
There's too many to mention but there's a common theme about vision, determination & perseverance.
What is your skate set-up like?
Basic! I'm still in my factory standard Sure Grips- the only skates I've ever bought. My wheels are a pusher set up.
What is your ultimate skate out song?
Beastie Boys- Sabotage… my face naturally goes into its game face state whenever I hear this
RANDOM QUESTION: If you had to make a choice never eat chocolate or chips again for the rest of your life which would it be?
Chocolate…life without chips isn't worth thinking about
---