Mrs Kripling
How did you get into Roller Derby?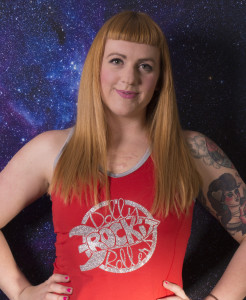 My sister told me how awesome it was after joining Kent Roller Girls so I googled it! It just so happened that the Dollies next intake was two weeks later. So I went along with a friend and never looked back!
What's your favourite position on track?
Most definitely a Blocker!
What's your signature move?
Backwards blocking, if I'm not facing the wrong way on the track there's something wrong! Haha!
What are you personally working on improving at the moment?
Agility and strength
What do you like to do to keep fit when you're not doing Derby?
I train at Crossfit LE3 three times a week -they have the best coaches and really push me to improve! I have also started morning yoga which I LOVE! who knew stretching could be a work out! #BringonShavasana
What do you do for fun?
Ummm Roller Derby and Crossfit! 😉
Is there anyone who has inspired you recently and why?
The rest of my team inspire me daily, they're the most incredible people I know! <3 #sosoppy
What is your skate set-up like?
Custom Antik AR-1's
Sure Grip mag avenger plates
Radar Presto 91A
What is your ultimate skate out song?
Ooh tough question! Anything that makes me feel empowered!
RANDOM QUESTION: If you could be the voice of a cartoon character which one would you be?
Definitely Daffy Duck! He's like the only cartoon character that is most likely to swear.. a lot! And get away with it! That's basically me!
---