Red's Cross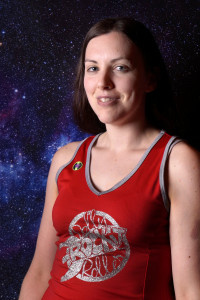 How did you get into Roller Derby?
I got into derby when some friends from my uni climbing club saw an advert for an intake coming up to the dollies 1 year birthday.
What's your favourite position on track?
Not on my face! I like to be the blocker slowing everyone down and getting in the way.
What's your signature move?
Plowing
What are you personally working on improving at the moment?
Always trying to overcome the fear of transitions at speed! My fitness is not what it used to be so working on that too.
What do you like to do to keep fit when you're not doing Derby?
Cycling (new thing!) and an insanity class once a week.
What do you do for fun?
Crochet, play guitar and watch TV series,
Is there anyone who has inspired you recently and why?
I'm inspired by everyone who finds time and motivation to keep to an exercise routine!
What is your skate set-up like?
New! (Expect roll line wheels) reidell grand prix with Snyder plates
What is your ultimate skate out song?
Dj fresh – gold dust
RANDOM QUESTION: If you could choose one superpower, what would it be?
I would like the superpower to fix anything!
---