What da Fox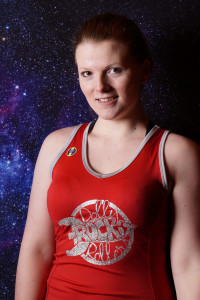 How did you get into Roller Derby?
A friend asked me to come along with her so that she knew someone else!
What's your favourite position on track?
Winning! Well apart from winning….pivoting is where I'm at 🙂
What's your signature move?
Hmmm…plows? Maybe ask my teamies!
What are you personally working on improving at the moment?
I've been working on explosive power outside of derby with weightlifting and in terms mental conditioning I read a lot into the theories and like to practice them at training sessions!
What do you like to do to keep fit when you're not doing Derby?
Picking up heavy stuff.
What do you do for fun?
Oww…fun. I like dancing and playing with fire! (Belly Dancer and fire performer)
Is there anyone who has inspired you recently and why?
I've been reading a lot into mental combat conditioning, those mma fighters are pretty amazing!
What is your skate set-up like?
Currently brass knuckles boots, avenger plates and a mixture of fugitives and sugars.
I need to grow up and upgrade my cushions! Gahhh
What is your ultimate skate out song?
Highway to hell
RANDOM QUESTION: If you had to make a choice never eat chocolate or chips again for the rest of your life which would it be?
Chips
---