Woolley Mammoth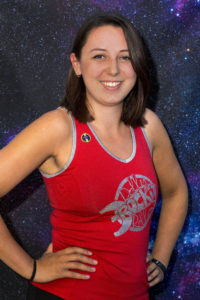 How did you get into Roller Derby?
I got into roller derby because I met 4 absolute nutters who convinced me I'd love roller derby, and they were right. One of them went on to be my derby wife.
What's your favourite position on track?
My favourite position on track is anywhere that I'm needed!
What's your signature move?
I wish I was cool enough to have a signature move. Just standing upright is a miracle.
What are you personally working on improving at the moment?
I'm working on improving my aggression! I've been scared of hitting people, but not anymore!
What else do you do for fun?
Do people have hobbies outside of roller derby? I sure don't!
Is there anyone who has inspired you recently and why?
I only recently joined the dollies, and they each individually inspire me in different ways.
What is your skate set-up like?
My skate set up is a mess because I keep using my derby skates as outdoor skates. The only thing I'm ever sure of is that I have the right wheels on.
What is your ultimate skate out song?
My ultimate skate out song would be One Step Beyond by Madness. I love a hyped up, bouncy song to make me feel energetic.
RANDOM QUESTION: If you could be a character in any film who would it be?
If I could be a character in a film, I would be tank girl. Who wouldn't want to be a badass with a tank?!
---