Come and show us what you've got in our Intergalactic game of Roller Derby! ⭐️
Can you Time Hop your way through the pack? Or will you end up regenerating in the penalty box?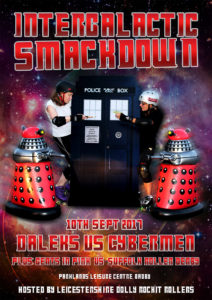 Get in your TARDIS and materialise to Leicester on 10th September 2017
****Which race will take the Earth (or team to win 😉)?****
Daleks or CyberMen
WHAT: An intermediate game of Roller Derby
WHO: For those who identify as Female
ME? Yes you who have played 3+ games and want more experience under proper game conditions.
HOW MUCH? £20 inc Tee. Exclusive design for this game only!
To be considered please fill out the form:
https://docs.google.com/forms/d/e/1FAIpQLSeovuOKT3sZp0hwCpXc4fmcazRybd4jGvgWa-HWY9IvUG0grQ/viewform
Any questions DM Alex DuBarry-Gurr or email info@dollyrockitrollers.co.uk