Challenge: Dollies Skate to Vienna!
Yes you read that right! On Sunday 15th September the Dollies are taking part in a sponsored skate as part of our fundraising for travel to play Vienna Roller Derby later this year.
What's involved with the sponsored skate?
We'll be skating the distance from Leicester to Vienna as a team, a whopping 1644 kilometers (just over 1021 miles)! And we have just six hours to complete the challenge.
Your donations would be gratefully received as we tackle this challenge – for many people this will mean skating at least 60 kilometers (37 miles) to add to the overall total – to put that in perspective that's the equivalent of running one and a half marathon in 6 hours!
How do I donate?
Donations can be made using this link https://www.paypal.me/LDRR or by speaking to a Dolly to make your pledge on one of our paper forms.
How much should I donate?
Any amount you are able to donate will go a great way towards helping our travel costs and to take on the Viennese team.
Can I take part in the skate?
Well of course you can!
Fancy joining the Dollies for a race?
Of course you do!
Between 12pm and 3pm we're opening up the track to outside skaters for a race!
Join us to see how many laps you can skate in 3 hours (these won't be counted toward the Dolly distance).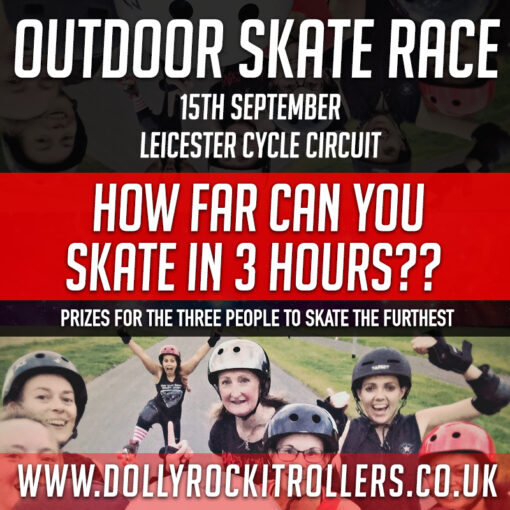 What will I win?
Is glory not enough?
Jokes aside, we will be giving out medals and kudos for the top 3 people with the highest distances.
There's an app for that…
You will need an app such as Runkeeper or a Strava to track your distance and at 3pm we'll bring you in to verify your tracking and make winners announcements.
Are under 18s welcome?
Under 18s are welcome to take part with a ticket, but will need parental consent and appropriate supervision.
Sign me up!
Tickets are just £10 and can be purchased through our online store – but get them quick, numbers are limited!
Need more information first?
Have a question before signing up? No worries email us at info@dollyrockitrollers.co.uk and we'd be happy to help.
Interested but can't commit yet?
Wanna wait to see what the weather is doing on the day? Or perhaps you are interested but can't commit yet? Register your interest by clicking here.