Dolly of the Month: June 18: Bear Kills
Congratulations on being our Dolly of the month – how do you feel about this amazing accolade?
I don't know what I have done to deserve being selected as dolly of the month but thank you.
What is it that drew you to roller derby in the first place?
The main thing that drew me to roller derby was that I wanted to meet new people and following an invite from Sophie (Rainbow Smash) I came along to a training session to see what it was all about.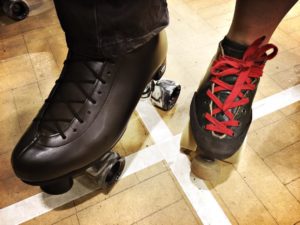 You have only recently got your skates… tell everyone why they are so special…
My skates are very special to me as they were not easy to find and I had to get them shipped over from America.
Having size 16 feet has some advantages, the availability of skates is not one of them.
You are very good at doing lots of NSO positions and various other jobs, what is the best NSO position to do?
I particularly like doing jam timing as I can be loud, but to be honest so long as I am helping I like what ever job I get given.
You are training to become a referee, which rule is currently doing your head in?
At the moment my main issue with refereeing is that I don't have much opportunity to practice doing the role.
I have decided to start with jam reffing and I just need to get more practice at it.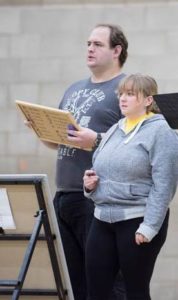 Have you met anyone in the Roller Derby world who has inspired you recently? And why?
There isn't anyone specific person who has inspired me, the whole dolly team inspires me every time I see them.
People who have come back from broken bones and other injuries, to people who despite mental struggles still turn up at training and give it their best even when they don't think they are good enough.
When you are not being a roller derby super hero what do you get up to?
If I'm not at roller derby I'm working, I don't currently have much going on in my life as I am waiting for the completion of a house buy at which point there will be plenty of work for me to do.
Had you ever done sports before you took up roller derby?
I am not a particularly sporty person, I like playing squash particularly but roller derby is just awesome.
If you can tell someone new to derby just 3 things – what would they be?
The three things I'd tell someone are, you'll have fun no matter what, if you want to get involved there will be a job or some basic training that you can try, finally everyone is very friendly and they will do their best to make you feel welcome.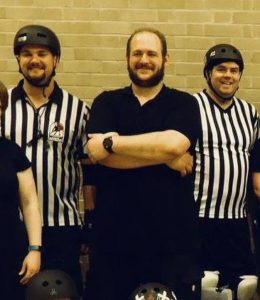 What is your most favourite roller derby moment so far?
My favourite roller derby moment must have been the first time I actually got to go on track and skate, after having waited so long and seeing all the fun that everyone has I really liked my first proper skating experience.
What Roller Derby plans do you have for the future?
I want to be a great ref for the Dolly Rockit Rollers so that I can go with them and help out more on the day.
I am doing my best to pass my minimum skills so that I can be on track with the others during practice, even if I am just a large moving obstacle for them to dodge.