It took almost 3 years. to pass minimum skills… but I did it!! 
I joined the Dolly Rockit Rollers at the end of June 2015. Back then I had to wait for an open day, but now we have a rolling intake so that new skaters can join throughout the year.
I didn't even know what I'd signed up to! I knew it was skating, and being an 80s child I skated as a kid – and I just wanted to skate! I saw my first roller derby game the day before I came along to the intake day, but by then I'd already committed and I felt that it was too late to back out!
I've never been the sporty type (I was always the last to be picked in P.E.) and I'm not very competitive either. I'm the kind of person that gives up easily, or rather gives up when things don't come easily to me. At least, that was until I found Roller Derby!
The start of my journey

On my first day with DRR I was welcomed and we had a very laid back session skating around, learning to stop and fall safely. Even when wearing all the protective gear, it's quite a mental challenge to "fall" on demand… but it teaches you that you can fall safely and not hurt yourself. I had the best time. I met some great, positive and encouraging people and I just couldn't wait to go back the next week.
Over the next few weeks I learned more skills, jumping, weaving, positional blocking and I started to get involved in NSOing (non-skating officiating) for games. It turned out that I was really good at the derby brain side of things (I like rules!), but not so gifted with the skating side of things. That said, I was just so happy to be involved in any way I could.
I had joined with a few others and joined an already established newbies group. I watched others progress, tick off their minimum skills and advance to the next level. I was so pleased for my team mates, but at the same time I felt really disheartened by the fact that it just wasn't clicking for me! I was already aware of the mental challenges in overcoming fears, but those mental challenges started to become a huge obstacle and I was getting in my own way of progressing.
Facing my challenges
Our league has a few levels; newbies are known as the Space Cadets, skaters who pass a certain level of Minimum Skills progress to Baby Doll level 1 (BDL1) then on to Baby Doll level 2 (BDL2) once fully mins passed and working on progression to the Travel Team.
To get to BDL1 I needed to tick off the majority of the minimum skills and achieve 25 laps in 5 minutes… that alone took me one whole year!! Seeing some achieve that in 3-6 months was tough. I started to lose track of the amount of times I told myself that I'd never make it!
All the while my teamies were so supportive – encouraging me and sharing their own stories of the challenges that they faced. I kept being told to enjoy my journey, that each of us forges our own path, to not compare myself to others and that I would get there! Be positive, have confidence and look how far I'd come – they told me! It really is hard to think that way when you feel so disheartened… but they were right, I did it and I advanced to BDL1 – hoorah! It meant I could train with the advanced and BDL2's.
Taking the next step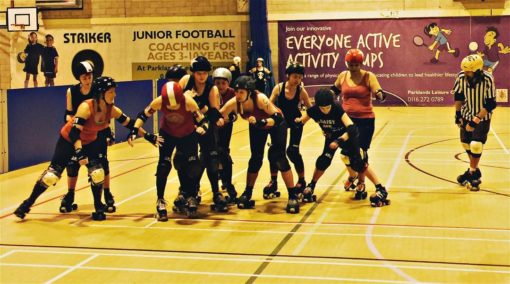 It was time to face the next challenge… sign off those outstanding skills to advance to BDL2. This next chapter was really tough for me. It seemed like everyone else just flew through this next level – but not me!! I could not get transitions and that really held me back. It got me really down and it really affected my confidence. So much so that I began doubting myself so much and considered giving it all up many, MANY times! I also really started to suffer with "shin splints" and it became so bad at times that I'd only be able to skate for 20 minutes and then have to sit out. I just felt so pathetic and that just got me down even more!
I took a lot of advice from fellow teamies and professionals. I also started cross training, but I still wasn't progressing and time was moving on. By this point I'd been skating for 2 years and I felt like I was no further forward in that year since I moved up to BDL1. Again, I saw newer skaters overtake me in progressing – I was never resentful, but really disheartened and disappointed in myself. Why wasn't I getting it?! Was it ever going to happen for me…?!
I was approaching a HUGE life event – I was getting married, so I made a sensible decision to take a break. I stopped skating a month before the wedding as I didn't want to risk an injury or to be bruised on my wedding day!  My partner and I went travelling for a few months after the wedding on our honeymoon… but I had fixed the date in my diary for when I would return to training and put skates back on! And I did, I came back on the 18th Feb as I'd planned.
Coming back with a fresh perspective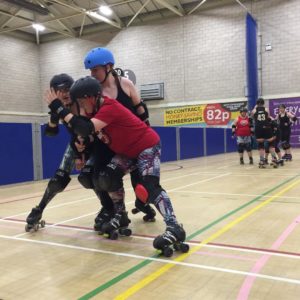 Taking a break was the best decision I could have made, because when I came back, it was with confidence and determination… or at least it was after I'd gotten the first training session out of the way!
The second time I was back on skates was for a pre-mins scrim and it went alright… Ha, actually it was awesome – I was so pleased with myself and it was a huge boost for confidence! Something just "clicked" and I finally believed in myself. I told myself there and then "You can do this! You're gonna do it!!" Our coaches had asked us to set some goals… mine were to nail transitions and sign off all skills before the end of June (which would be my 3 year anniversary!).
I kept regularly attending training. I brought my positive, determined and confident attitude with me to all the sessions – even if I didn't have a good session, I'd be telling myself "Ok, next time. You'll get there!", whereas before I would have told myself that I was useless and that I would never get there!
I wasn't afraid to ask for help and ask different teamies for advice. Everyone has a different style and technique and what doesn't work for one will work for someone else and maybe the fourth person I'd ask would do something the way that would work for me. It really is such a great idea to call on as many of the people around you as possible for advice – you also learn that they've had their own struggles too and it's something that all skaters go through! I also started cross training again to build up strength and stamina.
I'd have a go at laps in training and found I was at 24/25 consistently. I knew I had more to give, but it just wasn't getting out. I was also practicing transitions, and I could do them – just not at speed! But still I kept practicing – again calling on teamies for feedback and advice. These were to be my obstacles!
Tasting victory
Just a couple of weeks ago, we had a skills session. I was signed off the last of my outstanding skills – even those transitions! That just left me with laps left to tick off. So we did laps… and I got 25 (again…!) but Voodoo Sioux got her 27 and was now signed off fully!
Voodoo and I had been training together since I came back after my break – we were at a similar level and I was so thrilled to see her advance! I wasn't even disheartened this time – I knew I would get there and I'd just have another go the next time time!
But weirdly, after I'd caught my breath I'd said to Tazbo, who was coaching us, that I wanted to give it another go later in the session (was I going mad?! Laps… AGAIN… in the same day?!). Not necessarily because I thought I'd improve on the 25 laps, but more as a challenge to see if I could do it again. I just wanted to see if I could skate for another solid 5 minutes and at similar pace… and so I did!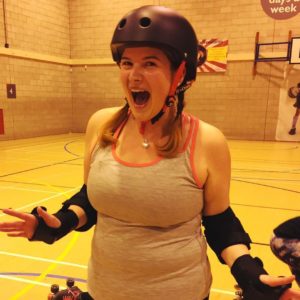 And… I did it!! I actually got 27 in 5…!
I couldn't believe it and I was sure they were making it up! It had only been me and Wreck-it-Roz on track – she was pacing me (although she lapped me 3 times! Yes she did 30 in 5!!) and everyone else was in the middle, watching, encouraging and cheering me on!
My left thigh was on fire and my right foot had the biggest blister (which was actually bleeding!), but the cheering and encouragement pushed me through the pain! I AM NOW A MINIMUM SKILLS PASSED SKATER! 
It's been just over a month since that day and I went for my first scrim the following week. It was a total blast! I did a few things I was so proud of as well as a few things that took me by surprise! I went to training straight after and scrimmed again at the end of training with the Dollies. It was what I'd worked so hard for 3 years, both mentally and physically and it was worth every second and every bruise!
Writing this blog gives me the chance to look back on my journey. I feel so incredibly proud for overcoming my mental obstacles and for not giving up! I am also so proud to be the fittest I've ever been and to be involved in a sport! There were times where giving up would have been far easier, but I just couldn't give up on something that I'd already invested so much time (and money) in to and something I love so much.
My motto throughout life is to be the best – not the best out of everybody, but the best that I can be! And I'm going to keep pushing myself to achieve exactly that… because every time I put my skates on, I'm a better skater than I was the last time I skated! It's hard to see the improvement from one week to the next, but I can look back at where I started and where I am now and I have definitely improved and achieved something HUGE!
This is my journey to date and I can't wait for what's next…!
---
Knights of Snowdonia will be playing in our mixed game this weekend at Loughborough Leisure Centre if you would like to see her play her first ever game!!! Tickets can be bought here >
Also, if you would like to follow in her footsteps we accept new skaters every Sunday (Except if we have a game on that day) – so get in touch and you too could be playing roller derby!!!