GrrNade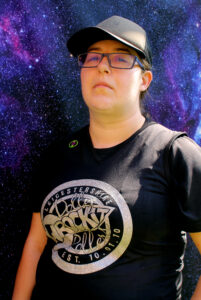 How did you get into Roller Derby?
I was brought along to my first session by a friend who had seen Whip It and wanted to give this Roller Derby malarkey a go. I went along more out of curiosity; knowing nothing more about the sport than it involved roller skates in some capacity, but it was enough to make me go home that night and watch old WFTDA footage on YouTube. The next week I went back on my own and that, as they say, was that.
What's your favourite position on track?
I'm still pre-mins so any time I'm on/near the track it normally involves NSOing which is something I quite enjoy – that will obviously change this year with taking on the LUM role. Once I finally get around to playing it'll be as a blocker, but I don't think I could get away with claiming that as a favourite position yet.
What's your signature move?
I've not gotten around to working out my signature movement yet. Since discovering that decent pads mean that the floor doesn't hurt I spend a lot of time finding new and innovative ways to fall over, but that's more to amuse myself than anything. One thing I do seem to be able to do is produce things from my bag that people are after – tape, painkillers, food, that sort of thing.
What are you personally working on improving at the moment?
Working on my min skills is an ongoing process, but I've also been giving reffing a go for our own scrims which I've discovered needs you to be able to take in what feels like a million different things at once whilst staying on your feet and not colliding with anyone else. Challenging, to say the least.
What else do you do for fun?
I play futsal which is a faster, more technical type of five-a-side football. I've dabbled in other things like running standard races and OCR type events (I have my eye on an inflatable course for this year). I'll read almost anything that's put in front of me and I have an ongoing relationship with my Xbox although that has taken a bit of a back seat since taking up Roller Derby.
Is there anyone who has inspired you recently and why?
It would be hard to pinpoint just one person as I'm constantly inspired by everyone in the league. There's always someone who's on hand to offer pointers with something, someone around to pick you up if you're having a bad day and there's never a lack of support and encouragement. If I had to look outside the league, however, I would say Brawn Swanson, who is just a complete badass.
What is your skate set-up like?
I'm still using the first pair of skates I bought – Chaya Ruby's with a mix of Heartless 88/90 wheels.
What is your ultimate skate out song?
Something loud and heavy. I'm going to go with Rob Zombie – Dragula.
RANDOM QUESTION: If you could be the voice of a cartoon character which one would you be?
Bart Simpson without a doubt. Don't have a cow, man!
---