Skater of the Month – May 2013
Miele – you are our skater of the month!!!
Now you are a celebrity skater, you have to give us an interview as it's the law! Well… It's not actually the law, but we want to find out more about you!
Congratulations on being our skater of the month – how do you feel about this amazing accolade?
Surprised and honored. I automatically thought I was in trouble when I saw the email in my inbox.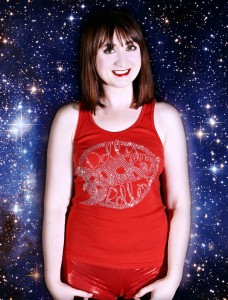 What are you doing right now?
I am sat at my parents house in Cornwall. I have just been to Truro to gatecrash the Kernow Rollers training session. I love them!
As one of DRR's fittest and also most knowledgeable, pack aware skaters – what advice can you give to anyone that wants to follow in your footsteps?
I always remind myself that my head will give up before my body, so when my brain is telling me it's tired and wants to give up I tell it to go do one and listen to what my body is telling me instead. You will find your body is capable of a lot more than you probably give it credit for.
Who are you most terrified of meeting on the track – anyone?
Anyone with pointy shoulders. Those hits hurt the most.
When you are not being a roller derby super hero, or woodland creature, what do you do in the real world?
I have a pretty dull office job. To make things more exciting I draw pictures of dinosaurs.
Had you ever done sports before you took up roller derby?
I grew up by the sea so once tried kayaking and canoeing when I was young but I was scared of jellyfish so I was a bit rubbish. I also once did well in the Javelin in school sports day but that was because we were all pretty useless at it.
If you can tell someone new to derby just 3 things – what would they be?
1) Don't feel disheartened if you spend most of your time getting knocked to the floor. This will just mean that soon you will be super awesome at bouncing back up fast.
2) That thing that you can't do and makes you so frustrated you do a little silent cry? You'll be able to do it soon. Promise!
3)
If you could pick any song you wanted just for you for your skate out what would it be?
Bikini Kill- Rebel girl
What is your most favourite roller derby moment so far?
Our game against Antwerp ranks pretty high in my all time fave Roller Derby moments. We just had so much fun.
What Derby plans do you have for the future?
Cat Derby
Oh and I'm off on an adventure to Vegas for Rollercon in July with a few other Dollies so hope to pick up some new super awesome skills.
Thank you for your time and for this interview, we hope it will inspire Miele Bee's all over the country to become as awesome as YOU!
Im picturing a whole team on track dressed as little bees right now complete with little antennae on their helmets 😀