Dolly of the Month: April 2014
Cherry BreakHell – you are our Dolly of the month!!!
Now you are a celebrity, it's obligatory that we interview you..
Congratulations on being our Dolly of the month – how do you feel about this amazing accolade?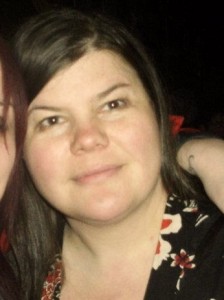 Wow! Feeling totally shocked and surprised 🙂
What are you doing right now?
Not long got back from training, so snuggling on the sofa watching American pie
What attracted you to Roller Derby in the first place & how long have you been skating?
After having to give up rugby due to a birth defect in my shoulder, I was really missing playing a team sport, and remembered seeing the dollies at the sky ride in 2010 and was going to join back then, but was scared to come alone. So finally plucked up the courage last October, making it about 7 months skating.
What is your favorite part of skating?
The team aspect, and also learning a new skill as have never skated before!
You are also one of our superstar NSO's, what is it that you like about this role and do you have a favorite position?
I like NSOing as it helps me learn about the game more, and get to know the main team skaters. Think my favorite position is line up tracking, at first it was a challenge to learn with the old way of tracking, but since the new rule change it is a lot easier so means can sneakily watch some of the game, don't tell skew 😉
When you are not being a roller derby super hero what do you for really?
For real I work as a chef, and I also make hand made chocolates. I can be found on the allotment, or being crafty with fabric and stuff.
Had you ever done sports before you took up roller derby?
When I was in my teens I swam for a local team, and played hockey, and later in life played rugby
If you can tell someone new to derby just 3 things – what would they be?
1. Don't look at your feet
2. If you fall down, get up and try again
3. Don't buy second hand knee pads!
If you could pick any song you wanted just for you for your skate out what would it be?
Celebrity skin – Hole…. is the first that sprung to mind of many!
What is your most favourite roller derby moment so far?
Just the simple things of nailing those skills working toward passing min skills
What Derby plans do you have for the future?
Not sure yet, just going with it and will see where it leads 🙂
Thank you for your time and for this interview, we hope it will inspire Cherry BreakHells all over the country to be as awesome as you!
Yay for sweet toothed multi tasking derby folks 😉