Dollies team up against Kent
On Saturday the 29th of March the Dolly Rockit Rollers hosted 'Kent Touch This', a double header at Parklands in Oadby.
The opener game, MC Jammers vs New Kids On The Blockers, showcased up-and-coming skaters from across the country, with a few promising Dollies really stealing the show with their sneaky jammer skills and solid defensive blocking.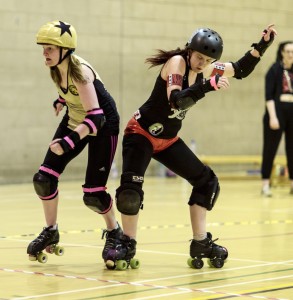 The main event saw the DRR All Stars face Kent Roller Girls. Since DRR's B team played them over a year ago, KRG have gone from strength to strength and the Dollies knew they were in for a tough game. Despite all this, DRR were riding high on a strong performance from a closed door the previous week and were ready to play as united team.
The game kicked off with DRR getting lead jammer for the first few jams. Kent responded by racking up points at a similar rate, with close jams called off with small point differentials. Unfortunately, this point-for-point tête-à-tête did not continue, as KRG upped their game mid way through the first half and penalties began to rack up for both teams, resulting in a big points leap for KRG as the 30 second jammer penalties made their mark.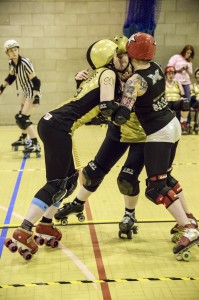 The first half finished with a daunting contrast in points for the Dollies to rectify. Kent went confidently into the second half, but DRR steadily and surely began to smuggle back points each jam, as effective blocking held back Kent's jammers, knocking them off track and recycling them back into the pack. DRR's jammers faced tough opposition on track as Kent's blockers played mean and hard, delivering hits that caught skaters off guard and resulted in impressive, in some cases almost artistic, falls.
Despite determined play from DRR in the second half, the point gap was too big to close and even with one of Kent's 10 skaters fouling out, KRG held their lead and finished the game on 177, with DRR on 119. Not bad for a predicted 200 : 98 loss – the game will result in the Dollies climbing back up the rankings.