Science of roller derby
On Monday the 17th of March, the Dolly Rockit Rollers took part in the UK Science Week by visiting the Market Bosworth School. The school were chosen as the National Science and Engineering Week Overall Winner, Best Secondary School Event of 2013 and were keen to outdo themselves this year. Dolly physics teacher Ophelia Fear took three excitable Dollies to the school to present an hour long talk on The Physics of Roller Skating to hoards of year 7, 8 & 9 pupils over three sessions. They also got to skate along the school corridors and side surf around pupils at break and lunchtime.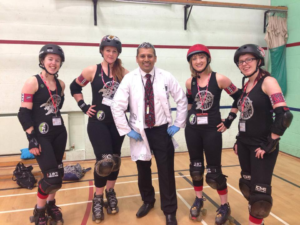 The talk focused on the topics of Forces and Energy and demonstrated concepts such as why friction is important when skating in a circular path, how to increase the force of a hit with speed and how the centre of mass of a body must be considered when attempting to increase stability. The pupils were able to get involved with the mini-experiments, were impressed by skating demonstrations and also got the chance to ask questions at the end.
After lunch the Dollies were treated to many exciting demonstrations, which they thoroughly enjoyed. Faisal Khan, the head of science, is an incredibly enthusiastic and captivating teacher is very keen to bring all aspects of science together to induce awe and excitement.
The Dollies are already keen to return next year to offer a similar experience to pupils at the school and play with more fire, explosions and cornflour!
Notes:
– Roller derby is a team skating sport that is now the fastest growing female sport in the UK. Teams score points by having their points-scoring player 'the jammer' lap the opposing team's 'blockers'. The team with the most points wins the game. The majority of teams are female.
– The Dolly Rockit Rollers are Leicestershire's first and, to date, only roller derby team. Formed in 2010, they are members of the UK Roller Derby Association (UKRDA) and an apprentice member of the worldwide roller derby governing body, the Women's Flat Track Derby Association (WFTDA). They currently number around 60 active skaters.