Dollies skate for Sur5al!
On 12th April, the Dolly Rockit Rollers sent a team of five of their travel team skaters (accompanied by referees, an NSO, and an enthusiastic Tweeter) to Norwich to take part in the inaugural Eastern Sur5al tournament hosted by Norfolk Brawds Roller Derby.  They finished a respectable fifth.
The Dollies are no stranger to the Sur5al format, having participated in similar tournaments in the past, but for several of the team this was their first foray into the world of intense two minute jams, no call offs, winner (almost) takes all.  In Sur5al, teams take five Sur5al points for "winning" a jam (i.e. getting more points than the other team) and an additional bonus point for claiming the status of lead jammer.  The format also saw teams only permitted a total of five penalties before fouling out of the game, and leaving their team to skate short.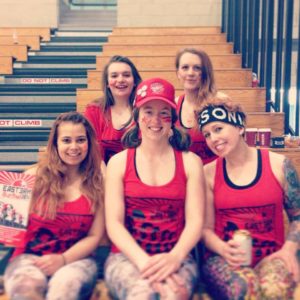 Ophelia Fear, Lil' Crash, T-Wrecks, Mrs Kripling and Nitro Noush took to the track in a total of nine jams, playing once against each of the other teams.  The Dollies' focused work on jam starts ensured they got lead (and the bonus Sur5al point that comes with it!) in all but one of the jams.  Even with the new 30-second penalties, however, two early jammer penalties proved fatal.  A jammer in the box meant no further points could be scored until she returned to the track.  As the DRR in-jam points difference was thrown negative, and jams were conceded, the Dollies languished in 7th place after the first heat.
However, with some impressive blocking from Mrs Kripling, Nitro Noush and T-Wrecks, and clean jamming from Lil' Crash, DRR's performance in Heat 3 was a complete turnaround, winning multiple jams.  A well-timed apex jump from the neat and agile Ophelia Fear saw the crowd cheering the Dollies on.  DRR soon found themselves third on the table going into the final heat.
Only the unstoppable Norfolk Brawds, who went on to win the tournament, could break the Dollies' lead jammer streak.  The hosting team played superbly, evidencing their dedicated training as a unit over the past couple of years, and building on their warm-up at Northern Sur5al the previous week.
Only a couple of in-jam points short of bridging the gap back up to 4th place, DRR finished with 28 Sur5al points – eight leads, and four wins.  And only one foul out.
Sur5al is a different and engaging experience for the officials, too.  DRR was proud to send Anton Deck to serve as tournament head referee, along with King Typical and Orla Skew taking a variety of referee roles across the four heats.  Cereal Kila also stepped up to the plate to track penalties as part of a well-organised team of non-skating officials.